Welcome! Here are the website rules, as well as some tips for using this forum.

What happened?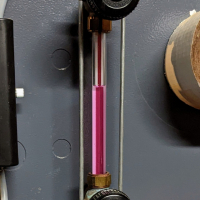 While swapping my Dwyer 1823 switches to the lower pressure one I ended up destroying the 1823-20.
I believe, this is a red brass nipple and when I tried to remove it, it tore the threads out of the connection on the switch. The switch housing and threads appear to be aluminum and are an 1/8" NPT connection.
What gives!?
It seemed almost impossible to remove the nipple and the mini-pipe wrench I have really tore it up to get it moving so it's like the aluminum bonded to the brass.
I saw absolutely no signs of liquid being in any of the connections or corrosion of any kind which was surprising. Anytime I removed gauges from the siphon I always saw nasty stuff from the moisture being trapped so "going commando" really kept things clean as well.
Single pipe quasi-vapor system.
Typical operating pressure 0.14 - 0.43 oz.
EcoSteam ES-20 Advanced Control for Residential Steam boilers.
Rectorseal Steamaster water treatment
Comments