Welcome! Here are the website rules, as well as some tips for using this forum.

a crazy radiant cooling phone call today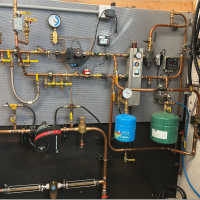 new home, the builder installed pex in the concrete ICF (foam block walls) A heat pump chills water to 50F, runs through the pex.
Hot humid home, so the builder brings by a dehumidifier. Exposed pex in the attic dripping.
I can't imagine the 2" of foam on the inside of those blocks will allow much wall cooling? 97°F today, probably more energy going outside than in.
I told him to get the load calc and design from the builder/ installer.
Maybe I should just link him to some mini split sites
Bob "hot rod" Rohr
trainer for Caleffi NA
Living the hydronic dream
Comments