Welcome! Here are the website rules, as well as some tips for using this forum.

descaling 3 way thermostatic mix valves? try this method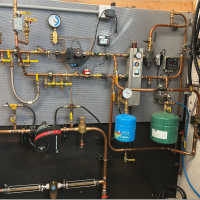 We get these valves returned, and most of the time the valves are seized up. It's very rare to find a factory defect in the valve. Inside it is a fairly simple mechanism, spool, spring, o-rings and thermostatic "pill"
Recently we have been discouraging disassembly to clean the valve onsite. The potential to damage the o-rings or spool, lose parts, or reassemble incorrectly is high, especially without a exploded view drawing. Repair techs sometimes dis-assemble them not realizing there is a spring inside and the parts go flying
So I though about using one of the tankless heater de-scaling kits. This is the Haymaker (odd name) unless you live in Missouri farm country, as I do, from Hercules™.
I drilled a few holes in the lid with a holesaw, a Unibit would work also. Get a spare lid to reseal the bucket for the next job.
I use one of the washer Y-hoses found at most plumbing or hardware stores, connect to H&C ports and onto pump with hose supplied in the kit.
A couple 3/4 mip tailpieces, which may be on the valve if you have a threaded version. Flatten the end with a file or belt sander so the hose washer seal tightly.
Assemble the valve to the lid, use a nut to lock it to the lid, connect the small submersible pump, included in the Haymaker, add the "juice" and run for 20- 30 minutes. I used 1/2 the dilution rate noted on the bucket, and it was plenty powerful.
Run time might depend on how badly the valve is scaled. We have had some returned where the ports were completely sealed off with scale or lime build up. Turn the knob a few times as the cleaner runs.
Here is a before and after look of the valves.
If you have a Caleffi Pump Cart, the lid already has a garden hose adapter, you just need a hose coupler and a Y hose.
Now if you install 3 way valves with a Webstone type ball/purge valve on all ports the valve could be de-limed in place, like you would a tankless heater.
Thoughts? donations? royalties?
Bob "hot rod" Rohr
trainer for Caleffi NA
Living the hydronic dream
Comments