Welcome! Here are the website rules, as well as some tips for using this forum.

Indirect tank build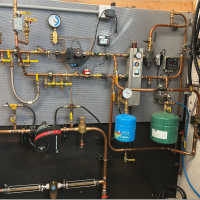 I was able to stuff 50 feet of 3/4" TracPipe, less the jacket, inside this ThermoCon buffer tank.
I'll reduce the 2" ports to 3/4 with brass bushings and use the TracPipe termination fitting., Amazingly all but one loop stay in the bottom 1/2 of the tank as I pushed it in.
I suspect any tank with 2" connections near the bottom could be converted to an indirect. Most of the DHW storage tanks had dual 2" ports near the bottom.
Very minimal amount of blood loss also
Bob "hot rod" Rohr
trainer for Caleffi NA
Living the hydronic dream
Comments