Welcome! Here are the website rules, as well as some tips for using this forum.

A visit to Living City Campus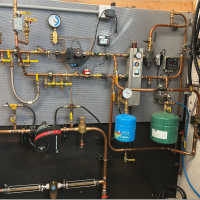 I'm up in the Toronto area this week and had a chance to visit this training and RE center. Several thousand students bus in here every year for tours and interactive workshops.
They have some unique equipment running and college students do various studies and data logging. First time I have seen a boiler with a Sterling engine installed. The thermal energy can heat the building or go to a salt storage to power an absorption chiller.
Bore hole and trenched GEO where the are testing various flow rates and pump sizes and short, low pressure drop loops.
It would be fun to spend a few days with Monitoring Co-ordinator Dave Nixon. drop by if you are in the Woodbridge, Ontario area.
Bob "hot rod" Rohr
trainer for Caleffi NA
Living the hydronic dream

Comments