Welcome! Here are the website rules, as well as some tips for using this forum.

low water cut off - replace or clean?
1 pipe steam, lwco looks like the attached pic (sorry, did not take picture of actual).
It never really flushed well when I pushed down the yellow handle -- it kind of always trickled out slowly.
And recently the float or other parts of it are all gluncked up, so that the auto feed sometimes adds 5 or 6 gallons too much before it registers as a proper water level (and, at that point, the water is a foot higher than the glass gauge, so then I'd need to drain it back down and start again). I can fix that temporarily by draining and such, so it works OK now and seems to be at the right level. But my service company says the lwco's shot, and wants to replace the whole lwco (for over $800!).
Is it possible just to take the thing apart and clean out the crud and get it working again? Or am I better off scrapping it and getting a new one?
Thanks in advance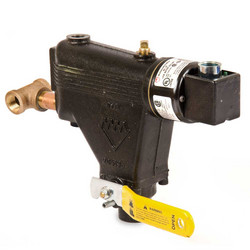 Comments