Welcome! Here are the website rules, as well as some tips for using this forum.

EcoSteam update.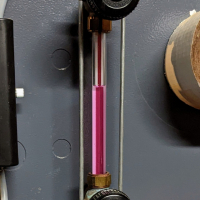 Chris when you get a chance give an update as to how your Eco-Steam controller is working. What were you trying accomplish with it and is it meeting those goals.
@Mark
N,
The EcoSteam controller I have is a beta unit and gets updates from time to time from
@MarkS
So far the unit has been amazing.
My main request was to make the temperature swing more narrow and to stop the system from overshooting during a recovery. The EcoSteam does this and it does it well. From time to time I turn the unit off and run just my Honeywell 8000 series and even after a week the difference is obvious. The Honeywell has problems especially if it's warm during the day and cold at night. The 8000 series attempts to learn the system and that's impossible if it doesn't know what's going on outside.
Basically what happens is the VP8000 which I have set to 2CPH calls for heat, the EcoSteam calculates how long the boiler should run based on the outdoor temperature and fires the burner up. Once the steam hits the main vents on my long main the EcoSteam goes from preheat to heating mode and starts counting down. Once the calculated time is over it shuts the burner off and almost always 5 to 10 minutes later the VP8000 shuts off. Because the burner shuts off early and the radiators allow the room to barely meet the temperature required to satisfy the VP8000 it will call for heat again much sooner than it normally would.
This automatically makes the temperature swing far more narrow than typical. In fact I believe with the VP8000 alone I was seeing a 2 degree swing or so, with the VP8000 and the EcoSteam I see around a 0.5F swing. The EcoSteam in a way forces the VP8000 to follow a 2 cycle per hour schedule.
I can do a 5 degree or even a 10 degree recovery and not overshoot at all 9 times out of 10. 1 time in 10 there will be a slight overshoot but nothing compared to the VP8000 alone.
Single pipe quasi-vapor system.
Typical operating pressure 0.14 - 0.43 oz.
EcoSteam ES-20 Advanced Control for Residential Steam boilers.
Rectorseal Steamaster water treatment
Comments