Welcome! Here are the website rules, as well as some tips for using this forum.

This one was still running on gravity
an old American-Standard atmospheric. It ran well and wasn't leaking, but the owners were ready to upgrade.

We had replaced the old floor-standing expansion tank last year- the original was a D&T I believe, which was a bear to drain. The system originally had an open tank on the third floor- we think the basement tank was installed with this boiler.

And when we got the old boiler out, we found the pedestal it sat on was in bad shape- so we went with a new concrete slab.

The new one is our first Burnham Series 3- a 308. This is similar to the ES-2 series, but is not as finicky regarding chimneys. It has our usual boiler-loop primary-secondary setup, which keeps some warm water returning to the boiler as the system heats up. They did have the chimney re-lined, and we used B-vent for the chimney connector to further reduce the chance of condensation.

Oh, and there was no good place to vent a mod-con.

The last pic is, believe it or not, a very old fuse block. It is mounted on the main beam that supports the joists. I did not see any scorching around it, so they were real lucky back in the day!
All Steamed Up, Inc.
Towson, MD, USA
Steam, Vapor & Hot-Water Heating Specialists
Oil & Gas Burner Service
Consulting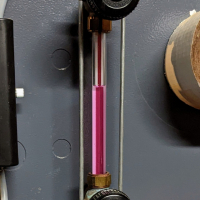 Comments