Welcome! Here are the website rules, as well as some tips for using this forum.

condensate drain ?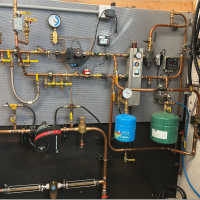 This pan lies with about 1/2" of water. The drain connection is about 1/2" from the bottom so the water never drains completely.



Twice now the drain line has plugged with the rust sludge, which trips the high level switch.



It doesn't seem like a very good design, and the A coil bracket is rusting away.
Bob "hot rod" Rohr
trainer for Caleffi NA
Living the hydronic dream
Comments