Welcome! Here are the website rules, as well as some tips for using this forum.

idea for old HTP Voyager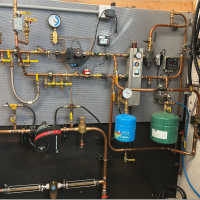 I was about ready to scrap out this leaker. Then I thought about turning it into a forced air heater. Tanks warms and an old Tjerlund power venter blows air through to former combustion chamber.



I need a small heater for my well house, I'll add solar for the tank, via the coil, DHW in the tank and a stat to maintain the well house at 45F with the fan.



If I can find and fix the leak.
Bob "hot rod" Rohr
trainer for Caleffi NA
Living the hydronic dream
Comments
This discussion has been closed.