Welcome! Here are the website rules, as well as some tips for using this forum.

Cadet Combi boiler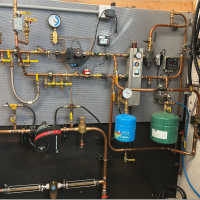 I like the concept of a simple dual purpose boiler DHW producer. The Cadet uses a plate HX with a dedicated pump to provide instantanous DHW. The pump provides great flow and excellent DHW production, no pressure drop that you might expect with a 3 way diverting valve and a single pump.



Being empty nesters our DHW needs are low. With both the dishwasher and wash machine being equipped with timers we can space out the DHW loads, so only 1 draw at a time.



For a simple one temperature system, like mine this is an ideal boiler. A basic control does offer the ODR. It has a great sound deadening jacket.



The ThermoCon tanks buffers the 3 small loads, the low load being two small bathroom floors. The buffer is only warmed during the heating season, today and most of the summer solar or the DHW module provides DHW.



I do have a solar pre-heat tank so the Cadet DHW module does always see tempered water.



I'm also trying a SolarinCal valve from Caleffi. This assembly of 3 thermostatic valves selects between the boiler DHW or solar. If the solar tank is 110 or warmer the DHW module is bypassed. The valve also tempers the DHW should either the DHW module or solar tank exceed 113F.
Bob "hot rod" Rohr
trainer for Caleffi NA
Living the hydronic dream
Comments
This discussion has been closed.