Welcome! Here are the website rules, as well as some tips for using this forum.

Suction line frosting??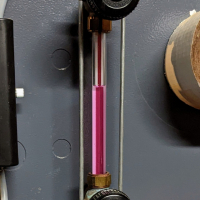 I'm a homeowner not a pro and this isn't even my system but I do rely on it to keep me cool at work.



My office is cooled by a central air system which was just repaired last year due to compressor failure. They installed a new compressor, flushed the system and installed a drier\filter on the suction line. I believe its filled with R-22 and has a TXV.



I've been running the system as our building has no windows that open and its been upwards of 80F in my office even though its been cool outside. Its around 70F outside right now and the system ran most of the day. I just noticed frost on the suction line outside all the way to the compressor.



This is the second time I noticed this and its got me concerned. If I recall the evaporator should never run cool enough to frost and you should have a certain amount of superheat to ensure no liquid goes to the compressor? Refrigeration is a hobby of mine, but as many know being book smart is kinda useless when it comes to the real world.



Is it time to call a pro or should I wait until we see some warmer days? I'd hate to waste the guy who repaired it last years time for nothing.
Single pipe quasi-vapor system.
Typical operating pressure 0.14 - 0.43 oz.
EcoSteam ES-20 Advanced Control for Residential Steam boilers.
Rectorseal Steamaster water treatment
Comments
This discussion has been closed.