Welcome! Here are the website rules, as well as some tips for using this forum.

Old building DHW recirc system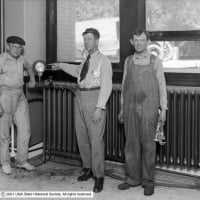 Timco
Member
Posts: 3,039
The Barbara Worth. 1920's. 40 units, 3 stories, all enclosed.



DHW line goes supply down the east side in 1.5" and a recirc line back from both sides in 1/2" that several units' tubs pull from.



Found a UPS 15-35SFC installed and swapped in a bronze 0014 and got 10-15* better in a few minutes, but still way sub standard on the far end and down the west side. 107* max.



Also found the remnants of an old bronze series 100 B&G. Could it be in this case I do actually need a bit more pump? Neither return seems to be hotter than the other, and isolating one side does let the other side get hotter but slightly and it takes a while.



Both returns hit a 3/4 tee then down to the recirc pump in 3/4 before mixing with the cold water supply.



Hope everyone is well!



Tim
Just a guy running some pipes.
Comments
This discussion has been closed.