Welcome! Here are the website rules, as well as some tips for using this forum.

large thermostatic mix valves, new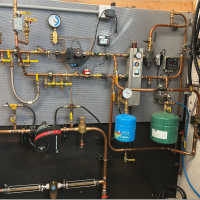 1-1/4" NPT pipe size, 100-200F, 21 Cv. These are for radiant mixing piped with primary secondary, possibly boiler protection. Not listed for DHW use they are brass bodies and do not carry an ASSE listing.



I can send spec and installation sheet if needed.



$45.00 each two for $80.00



I think they could ship USPS in a medium size Flat Rate box for around 12 bucks
Bob "hot rod" Rohr
trainer for Caleffi NA
Living the hydronic dream
This discussion has been closed.