Welcome! Here are the website rules, as well as some tips for using this forum.

Best way to heat trap/stop gravity flow in indirect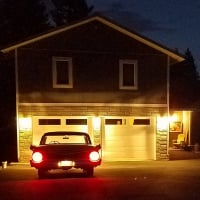 I have a Heat-Flo SS 115gal indirect that I heat with my wood gasification boiler.  I bought the large size so I'd be able to go for 2-3 days between firings of my boiler during the shoulder season, as I don't need much heat in the house in the fall/spring.  That said I can get the indirect up to 180 on the bottom so there is a lot of hot water stored.  I was in contact with Heat-Flo and they said it was permissible to heat the tank to this temp.  I mix the water to 120F with an ASSE mixing valve which is properly heat trapped about 24" below the hot outlet.  The way the mixed pipe rises after the mixing valve it produces a gravity loop between the hot outlet and the valve and back to the cold inlet of the tank.  I insulated all of this piping but the hot water migrates into the cold supply for the house and tempers the cold water for a few seconds when opening a faucet.  Also this pulls quite a bit of heat out of the indirect.  I've closed a ball valve during a period of 24 hours and the tank temp only dropped about 10 degrees, but wit it open it drops about 30 a day.  This seems to indicate that most of the heat is escaping through this gravity loop and taken to the cold line and being dissipated every time a cold water draw is initiated.  What is the best type of heat trap, a swing check or would it be noisy during small draws?  I was wondering about installing a 1/2" swing check in the vertical outlet of the water heater?? The ones with the little rubber flaps in them don't seem like they would hold up in the long term.  I'm open to any and all suggestions.  I can post a picture if that'd help.  Thanks Pros!  BTW this is in my own house. 

Taylor<em>  </em>
Serving Northern Maine HVAC & Controls. I burn wood, it smells good!
Comments
This discussion has been closed.