Welcome! Here are the website rules, as well as some tips for using this forum.

Oil tank vent pipe / whistle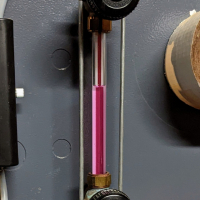 Kind of an odd question here, we finally pulled the oil tank out of my crawl space which I've been wanting to do for over a year now.



During this we started talking with a neighbor that said he installed the vent pipe and whistle for the previous owner in 2008.  I'm curious if an indoor tank without a vent of any type or whistle suggests any specific age of the tank?  As the tank is no longer in my hands I suppose it doesn't really matter but I am kind of curious how old the tank was.  Someone had told me 10 years and I'm finding it hard to believe. 

  



Something else I noticed was the tank had a valve on the bottom and a copper line connected to it which was cut and crimped.  The line then was ran out of the top of the tank.  Makes me wonder why this was done?   Maybe required by code later on?



Thank you for your time.

Chris J
Single pipe quasi-vapor system.
Typical operating pressure 0.14 - 0.43 oz.
EcoSteam ES-20 Advanced Control for Residential Steam boilers.
Rectorseal Steamaster water treatment
Comments
This discussion has been closed.