Welcome! Here are the website rules, as well as some tips for using this forum.

Pulleys, motors, and horse power...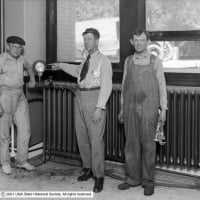 Timco
Member
Posts: 3,039
So I am servicing a large condo complex. Each unit has its own air handler.



Many have had their pulleys or motors replaced over the years to change the amount of air flow in winter to make less noise but that leaves them lacking in the summer for AC. These are hydro air coils in air handlers.



Question is, what is the correct process to check amps on phases to determine how many HP the motor is currently pulling (most in the building are 1/2 - 1 horse) and what pulleys I can swap to to get more air...like a 10 speed bike. Some 240v 2-phase, some 208 v 3-phase. Building is delta 3-phase.



Also, where do you measure a pulley to know its size? The shaft is easily measured with dial calipers but what about the belt side? Some are adjustable.



Many units need more air but I don't want to exceed the motor's capacity and don't want to go through the process of measuring all the ducts and air handler sizes since its all enclosed and build in 1960. No info plates on any air handlers, sizes differ from floor to floor with unit sizes.



Thanks! Happy 4th!!



Tim
Just a guy running some pipes.
Comments
This discussion has been closed.