Welcome! Here are the website rules, as well as some tips for using this forum.

Switching between two water heaters automatically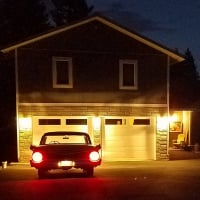 I've been in a bit of a quandary about switching between a 120 gal indirect I heat with wood in the winter, and a Toyotomi OM180 which I use to heat water directly in the summer.  As of now I have only one mixing valve, and simple a set of ball valves to isolate the unused heat source.  The question is with the fast recovery of the oil miser, and the storage of the indirect, is there any way I can pipe the two with maybe two mixing valves so which ever one is producing the hot water will be fed to the hot supply.  I have low voltage switches at all hot water faucets which control the oil miser so it's only switched on when there is a hot water need (20 seconds and endless hot water).  In the shoulder seasons it gets dicey since I can store enough hot water for 3-4 days, but it's not cold enough for a fire in the boiler for heat in the house. I don't want to use oil to heat the indirect since I can use less oil heating it on demand so to speak.  I want to just be able to switch on the oil miser and have hot water and not use the ball valves.  I've thought of using a three way zone valve but if it can be done simpler with one more mixing valve I"m all for it.

Thanks for this great site guys!

Taylor 
Serving Northern Maine HVAC & Controls. I burn wood, it smells good!
Comments
This discussion has been closed.