Welcome! Here are the website rules, as well as some tips for using this forum.

oversized? Undersized? Just right?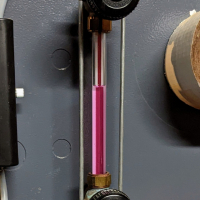 Yesterday we woke up to a cold house because someone hit the boiler switch at the top of my basement stairs on Sunday. 



After I realized what happened I turned the system back on and watched to see just what would happen.

House was 61F and it was 30F outside, set temperature was 69F.  System ran for a total of 1 hour 20 minutes and started building pressure at around 1 hour or so when all of my vents finally closed on the radiators.  After around 1 hour 15 minutes it cut out on pressure @ 1.5PSI.  Cut in was at 0.5PSI but with the damper opening and all didn't kick back on and start climbing again until 0.25PSI which I assume is still perfectly acceptable.  During this my water level was 3 inches or so in the gauge glass so some how my low water issue no loner exists so I'm happy about that.

after 1 hour 20 minutes the system shut off and created a pretty good vacuum, my 3psi Wika gauge ended up pointing straight down which is when I decided to close the valve to it to protect it as the vacuum was still increasing.  After maybe 10 seconds I heard the Gorton 1s open 30 feet from me and suck in air pretty hard.



<strong>Does this behavior suggest I sized my boiler well,   or is it a little on the large side being it hit 1.5psi after 1 hour 15 minutes?  I have to assume being able to do a 8 degree recovery and only going off on pressure once is pretty good?  Should I consider having someone come in and reduce my fire a little or leave it alone?</strong>
Single pipe quasi-vapor system.
Typical operating pressure 0.14 - 0.43 oz.
EcoSteam ES-20 Advanced Control for Residential Steam boilers.
Rectorseal Steamaster water treatment
Comments
This discussion has been closed.