Welcome! Here are the website rules, as well as some tips for using this forum.

So I get this call.....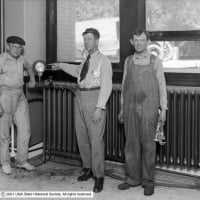 Timco
Member
Posts: 3,040
Local company needs a bit of advise on piping a steam boiler. They are a furnace & AC company but do plumbing. I get there and standing in the corner of a room is a 1.5 mil BTU Fulton Boiler with a huge power burner and 2" tappings, and a condensate pump setup. 150 psi max. Customer provided.



The customer wants to run a flexible hose from the steam supply tapping and to these stainless steel tanks to sterilize them by running 26 psi steam in them for 20 minutes. Then he needs to break the vacuum with a special air filter. The hose would need to be able to be disconnected and connected to another tank. The tanks are from 50 to 500 gallon, on wheels.



Customer says they want to be able to just open and close a valve for this process and I asked him how they intended to manage the disconnection of 26lbs of steam from these tanks and explained that this is typically designed by an engineer, not the end installer. They said they would consult an engineer or the company who made the tanks.



They also want to use the steam to warm a culture tank and the condensed steam could just become part of the product....But did not have specifications of how much liquid and of what type, and how the steam was going to "mix" with the product....



Wow....just wow....
Just a guy running some pipes.
Comments
This discussion has been closed.