Welcome! Here are the website rules, as well as some tips for using this forum.

oil burner tuning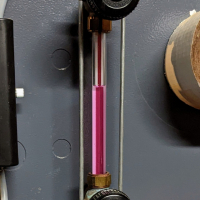 Ok so I finally fixed my puff-back problem.  I had someone service our Burnham V83 steam boiler with Beckett AFG burner back in May and ever since it would light with a whomp.

Boiler manual calls for a .60 60A nozzle and it had a .75 45B installed.  I installed the correct nozzle, set the electrodes and she starts up and purrs like a kitten!



Question I have is, before switched nozzles she burned with a dark yellow flame.  With the correct nozzle its a very bright yellow almost whiteish flame with blue mixed in.  The air band and shutter are set to what Burnham says to set them to which is exactly how I found them.  In my case this is 2 on the band and 10 on the shutter.  The air damper on the stack has not been tampered with since it was set by a service tech.



Should my burner be good to go or should I still have someone come out with tools to adjust the air?  How close to perfect are the "factory settings" from the boiler manufacture? 

Unfortunately this last guy left me pretty unimpressed with paying to have my boiler "serviced".  
Single pipe quasi-vapor system.
Typical operating pressure 0.14 - 0.43 oz.
EcoSteam ES-20 Advanced Control for Residential Steam boilers.
Rectorseal Steamaster water treatment
Comments
This discussion has been closed.