Welcome! Here are the website rules, as well as some tips for using this forum.

peerless pure install pics (clammy)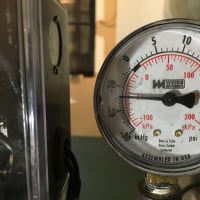 here are a few pics of a complete system install using a peerless purefore boiler PF80 with a 30 gallon boiler buddy (no indirect yet)the original 30 year old utica steam boiler gas fired had not been serviced much through it 's life and was shut down by the local gas company due to it setting off the smoke alarms the Ho was advised to get the boiler cleaned and they would return to check it out ,well upon further inspection i found the boiler completly sooted due to the top of the boiler was rotted through and effecting the boiklers draft and dripping on the burners ,i had given then a price on replacing  the steam boiler and correcting alot of near boiler piping issues and also giving then a heads up on there damaged chimmey which needed alot of work like a rebuild of the whole top 5 ft of the chimmey and possible relining also.they staed they wanted the steam boiler removed with all the rads and piping and wantedsomething effecent .So i performed a heat lose and even with no insulationin any walls i came up with about 74 mbtu heat lose ,i sold them on a mod con and buderus panel rads ,i used upionor 1/2 MLC tubing and 2 uponor tru flow manifolds with flow stters for ease of proper flow set up to the panels all the panel rads are set up divertor valves and TRVs.For a system pump i chose a wilo eco which is set up for constant circ using a ranco etc to operate on outdoor temp ,the boiler is using the outdoor reset and is set up fpr 150 water temp at 7 outdoor temp the boilers is controlled by a white rodgers 97-380 i believe which is a temperture average stat i installed 3 sensor thoughout the home and i am also using the stats sensor also i wanted some indoor feed back to the boiler and did not like the constant demand set up being it ran the boiler pump constant as i watched it temp drop by circ through the boiler  .The boiler is using the system sensor which original is a strap on but i opted to get a tank sensor and installed it in the boilers buddys well .At combustion numbers and the system operating she rang up with a 96.5 Eff not bad .all the panel rads where sized for low temp operation and i would have gone lower on my water temps except there was aexisting baseboard loop which limits my temperture lowering i did advise them to install a panel rad in that room but they opted to wait and see and that was cool as of now with the cold snap we are having in north jersey that sun room is still holing well the baseboard is controlled by 2 honeywell zone vallve and a seperat t /stat to prevent any over heating due to solar gains there is also a remote sensor in that room also the 2 baseboard loops are working off the uponor manifolds .Besides all the boilerinsatll work i had my hands full moving the dryer it's vent and doing a bit of gas piping and re piping of the water heater also of the existing gas and water lines where giving me a headache so i just did it and straightened it out gas pipe nightmare (3 stoogies stlye)Most of all the origanl rads where ortamental and where not tossed they have found a new home else where in another steam system aftyer they are bead plasted and powder coated .peace and good luck clammy
R.A. Calmbacher L.L.C. HVAC
NJ Master HVAC Lic.
Mahwah, NJ
Specializing in steam and hydronic heating
Comments
This discussion has been closed.