Welcome! Here are the website rules, as well as some tips for using this forum.

vapor question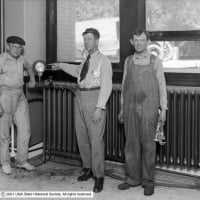 Timco
Member
Posts: 3,040
I have a customer with a vapor system, piped in a dead give-away method including the return trap. However, the return trap was long ago abandoned, who knows why. Should this trap be replaced or repaired, and reintroduced to the system? She does get a bouncing water line, but not really any no-heat situations due to low water. Second, this boiler has a standard pressuretrol. Never builds pressure, and seems to not be able to either. What would have originally run this boiler so it does not just fire forever during a heat call? Last, if the boiler is replaced, is the use of a vaporstat the only needed part to keep it vapor or should it just be run as a normal 2-pipe setup? All standard valves & traps, but typical return trap between 2 check valves.  Building does heat now, but I want to make it better, and learn while I am at it.



Tim
Just a guy running some pipes.
Comments
This discussion has been closed.