Welcome! Here are the website rules, as well as some tips for using this forum.

Solar heat for garage slab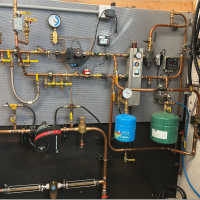 without storage is one of the methods used by cedar Mountain. check out their article in the Nov. dec. PHCNews.

Bob Ramlow also proposes tube in a 12" sand bed storage below slabs for homes. Temperature control may be an issue in the fall when the slab is warm and no sizeable heating load. Opening windows is the method he prefers to control the temperature. That may work for a shop, but not an idael comfort system for most homeowners.

hr
Bob "hot rod" Rohr
trainer for Caleffi NA
Living the hydronic dream
Comments
This discussion has been closed.