Welcome! Here are the website rules, as well as some tips for using this forum.

chiller for combination air /water cooled refregerant units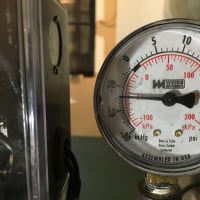 As always most of the jobs i do where some bodies hack job ,well here's one for you professor ,9 indoor refregrant condenser units for a walk in frezer/refregerator a bucnh of deli cases and some reeach in all located above the bathrooms access from the back of the kitchen and all where air cooled of course none of them worked because of the hi ambeint temps compressor shut off on hi temp there where a bunch of attemps to duct some outside air and some exhaust up there but did not help so the original guy added head pressure control and attached water cooled condenser which come on according to the head pressure works sweet what a fix right not so fast upon first seeing this we imformed the bagel store owner about possible hi water bills i was not worried well now he is he owes the water company about 20 grand and wants a fix there is absoulte no where to out mount these units nor any place to place a tower ,there is a small place to install stay one or 2 outdoor unit andd that;s about it ,my question is is it possible to use a small flat plate and a say 8 hp condenser and make a closed loop chilled water loop for these water cooled condenser of couse there would be say a 30 to 40 gallon buffer tank of chilled water for storage and to help pervent short cycling i know i making it sound a bit simple and i under stand that i got to do a bit more reasearch on my condensers loads ,this place had so many promblems inclding the rest of the mechincals that after wasting alot of time on that crap our propasals where thrown to the side and they used my ideas and yet had another hack do the job it doesn,t work because of a few vitale info i left out ,sorry fot the long post but is this possibe or would that hi condenser dis charge temps be over loading the chiller .Ps my partner has been making his own chiller for the plasticblow injection indusrties for about 30 years smaller ones down to about 2 hp for a another co mpany which designs blow molds ,he states that the chiller would not be able to lower that condenser dischage temp down fast enough from say 90 t 100 to say 45 want do you think peace ad good luck clammy
R.A. Calmbacher L.L.C. HVAC
NJ Master HVAC Lic.
Mahwah, NJ
Specializing in steam and hydronic heating
Comments
This discussion has been closed.