Welcome! Here are the website rules, as well as some tips for using this forum.

'best of...'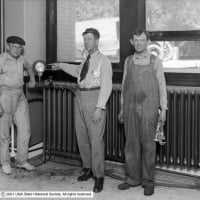 Timco
Member
Posts: 3,026
I cut & pasted the best of a thread I recently re-visited...I just could not help but re-post these classics...

Tim

Chuck Norris can hit you so hard that he can actually alter your DNA. Decades from now your descendants will occasionally clutch their heads and yell "What The Hell was That?"

Chuck Norris was the fourth wise man, who gave baby Jesus the gift of beard, which he carried with him until he died. The other three wise men were enraged by the preference that Jesus showed to Chuck's gift, and arranged to have him written out of the bible. All three died soon after of mysterious roundhouse-kick related injuries.

Chuck Norris was once on Celebrity Wheel of Fortune and was the first to spin. The next 29 minutes of the show consisted of everyone standing around awkwardly, waiting for the wheel to stop.

Chuck disguised as a penguin takes care of Osama who is also disguised as a penguin hiding in Antarctica. The "slap of death" has been delivered! Thought you should know.

Chuck Norris once fought a bear simply because it dared to grow more body hair than Chuck Norris.

One time in an airport a guy accidently called Chuck Norris "Chick Norris". He explained it was an honest mistake and apologized profusely. Chuck accepted his apology and politely signed an autograph. Nine months later, the guy's wife gave birth to a bearded baby. The guy knew exactly what had happened, and blames nobody but himself.

-Chuck Norris really likes the movie 101 Dalmatians. No one knows why.

-Chuck Norris once roundhouse kicked someone so hard that his foot broke the speed of light, went back in time, and killed Amelia Earhart while she was flying over the Pacific Ocean.

-The following is a short list of things Chuck Norris cannot do: .

Chuck Norris can tie his shoes with his feet.

When Chuck Norris sends in his taxes, he sends blank forms and includes only a picture of himself, crouched and ready to attack. Chuck Norris has not had to pay taxes, ever.

Chuck Norris can win a game of Connect Four in only three moves.

Chuck Norris can get Blackjack with just one card.

Chuck Norris once round-house kicked a salesman. Over the phone.

Chuck Norris has to maintain a concealed weapon license in all 50 states in order to legally wear pants. (another favorite)

Chuck Norris is the only person on the planet that can kick you in the back of the face.

Chuck Norris once ate a whole cake before his friends could tell him there was a stripper in it.
Chuck Norris went to the Virgin Islands. Now they are just called "The Islands".

There is no theory of evolution. Just a list of animals Chuck Norris allows to live.

Chuck Norris does not sleep. He waits.

The chief export of Chuck Norris is Pain.

There is no chin under Chuck Norris' Beard. There is only another fist. (my favorite)

Chuck Norris has two speeds. Walk, and Kill.

The leading causes of death in the United States are: 1. Heart Disease 2. Chuck Norris 3. Cancer

When the Boogeyman goes to sleep every night, he checks his closet for Chuck Norris.

Chuck Norris doesn't read books. He stares them down until he gets the information he wants.

Chuck Norris does not sleep. He waits.

Chuck Norris is currently suing NBC, claiming Law and Order are trademarked names for his left and right legs.

Chuck Norris is the reason why Waldo is hiding.

Chuck Norris counted to infinity - twice.

When Chuck Norris does a pushup, he isn't lifting himself up, he's pushing the Earth down.

Chuck Norris is so fast, he can run around the world and punch himself in the back of the head.

Chuck Norris' hand is the only hand that can beat a Royal Flush.

Chuck Norris can lead a horse to water AND make it drink.

Chuck Norris doesn't wear a watch, HE decides what time it is.

Chuck Norris can slam a revolving door.

Chuck Norris does not get frostbite. Chuck Norris bites frost

Remember the Soviet Union? They decided to quit after watching a Delta Force marathon on Satellite TV.


Every time a church bell rings, Mr. T pities a fool.

Mr. T hates playing 'Rock Paper Scissors' because he doesn't believe anything could beat rock. He always chooses rock, and when someone throws paper, he says,"I win." If someone is foolish enough to dispute this, he takes his clenched fist and punches them in the face, then says, "I thought your paper would protect you."

When Mr. T folds his arms, the U.S. Terror Alert Level is raised to gold.

The last man who made eye contact with Mr. T was Ray Charles.

Mr. T speaks only when necessary. His main form of communication is folding his arms and slowly shaking his head. And regardless of the situation, he is always understood.

Mr. T doesn't pity anyone who likes the Black Eyed Peas. He just kills them.

Children are afraid of the dark. Dark is afraid of Mr. T.

Mr T. and Chuck Norris decided to spar, they travelled to the only safe place in the Universe, the beginning of time. They bowed to each other and Chuck launched in with a roundhouse kick. Mr. T blocked it, and the resulting pressure wave is commonly called the Big Bang.

Mr.T once punched Chuck Norris at the exact moment he roundhouse kicked Mr.T in the chest. the result was the 80's.

Mr. T doesn't breathe, air just hides in his lungs for protection.

Mr T's chains are not made of gold, they are actually made of curium, one of the heaviest elements in existence. They were put there by the CIA to slow him down, and you're lucky they do, fool.

Human females have two X chromosomes. Males have an X and a Y. Mr. T has three Ys and a T. He's more man than you'll ever be.

5 out of 5 doctors recommend not pissing off Mr. T.

When creating the alphabet, Mr. T placed the letters M, R, and T in seperate areas so people could learn to read and spell without fear.

Mr. T is the reason the sky is blue. Don't ask stupid questions.

Mr. T once ate four 72 oz. steaks in 12 minutes. He spent the first 5 minutes laughing at the fact it takes Chuck Norris fifteen minutes to eat three.

Mr. T once captured Bigfoot, but released him after he shaved the beast and realized that it was just Chuck Norris walking around naked in the woods.

Mr. T invented fools. Realizing the magnitude of his folly, he then created Pity.

23. That's the number of fools Mr. T has pitied in the time it has taken you to read this sentence.

When Mr. T received his star on Hollywood's Walk of Fame, he made his hand prints after the cement was dry.

Mr. T is not black. It's just that the sun is to afraid to shine on him.

On the A-team, Face , Haniabal, and Murdoch were all masters of disguise. Mr T didn't have to wear a disguise. The bad guys didn't recognize him out of fear.

Mr. T always drives on the right side of the road, no matter where he is in the world.

Mr. T coined the phrase, "I see dead people," after the waiting staff at Denny's forgot his birthday.

There are only four horsemen of the apocalypse, because Mr. T is going to walk.

Mr. T. does not break wind. He destroys it.

Mr. T does not actually pity fools. He is just being sarcastic. No one has noticed because it is difficult to pick up such subtleties while being bludgeoned.

Gravity dosen't exist. Mr. T just pities everything to stay down. Birds and planes are exempt beacuse they are shaped like Ts.

Mr. T was once involved in a head-on car crash, and he was the only survivor. Mr. T was walking at the time.

Mr. T once travelled back in time in a telephone booth similar to the one in Bill & Ted's Excellent Adventure and killed every Jester and Joker in every King's court, because he pitied those fools.

Mr. T's mohawk is so scared of Mr. T, that it started running to his beard for help.

Mr. T's feather earrings are actually feathers from a foolish bird that he pitied.
Just a guy running some pipes.
This discussion has been closed.