Welcome! Here are the website rules, as well as some tips for using this forum.

Has BW Combi-Cor been fixed?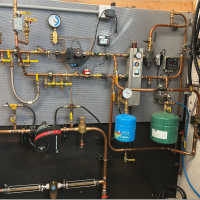 getting into the heating side the 30Lb relief should trip.
Also that HX tube had a leak detection path to the outside of the tank. A coil leak should show up there first as it follows the plastic leak path to the upper nipple.

They could, and did perform with a typical 15-42 sized circ, just not to the upper limits on the output chart.

Actually even with a high head circ I don't think they ever lived up to that output table on the heating side :)

A fairly unique idea, however. i think you can buy it under the Lochinvar brand also.

BW makes small tanks for lochinvar, and Loch makes large tanks for BW. I think Lochinvar has the largest tank oven??

hot rod
Bob "hot rod" Rohr
trainer for Caleffi NA
Living the hydronic dream
Comments
This discussion has been closed.