Welcome! Here are the website rules, as well as some tips for using this forum.

1/2\"PAP for CI radiators?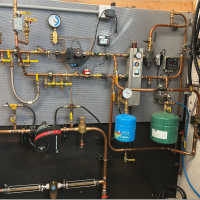 in fact you could move 22,000 BTU/ hr at a 20 degree delta T on 1/2".

3/8 pex would actually carry that load.

Run a 40 degree delta t and you might plumb the whole system on 1/2"

hot rod
Bob "hot rod" Rohr
trainer for Caleffi NA
Living the hydronic dream
Comments
This discussion has been closed.