Welcome! Here are the website rules, as well as some tips for using this forum.

radiant floor cooling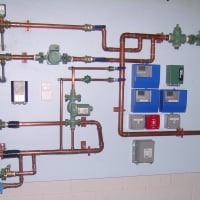 Mustang,

I have installed a geothermal radiant cooling system into my house. It is a real simple system. It works. Some things I am happy with some not. By then I will get it working the way I want it. It cools the floors of my addition. The addition still isn't done yet so we haven't moved up there yet. I ran it 3 or 4 times at about 6 to 12 hours each time for testing purposes. Check back with me a couple of years from now by then I will have worked out all of the bugs.



<A HREF="http://www.heatinghelp.com/getListed.cfm?id=96&Step=30">To Learn More About This Professional, Click Here to Visit Their Ad in "Find A Professional"</A>
I am the walking Deadman
Hydronics Designer
Hydronics is the most comfortable and energy efficient HVAC system.

Comments
This discussion has been closed.