Welcome! Here are the website rules, as well as some tips for using this forum.

Looking for advice on condensing unit heaters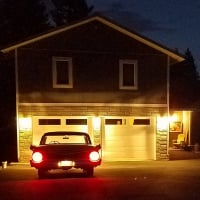 I've got a job of heating a large agricultural building, ~30,000 square feet. There will be product in the building (potatoes) which will generate some heat. As the winter goes o , trucks are loaded and the storage will have less and less potatoes in it. The ideal temp is 40F. The building is not that tight with many large opening doors etc. There was an 80% 250K gas unit heater which kept up I am told. But has long rusted out. 

The ideal location of the heater is near the center of the building and I do not want to make a flat roof penetration. 
The flue would be approx 50' horizontally, and sealed combustion is a must due to chemical gassing of the produce. 

I'd really like to think this would be the ideal place for a plastic vented condensing unit heater. But I have heard negative things about the Modine Effinity 93. 

I was looking at the 180K model 93. 

Anyone have any thoughts? A pair of 100K condensing furnaces with minimal ductwork? 
Serving Northern Maine HVAC & Controls. I burn wood, it smells good!
Comments